Best Home Gym Equipment and Free Home Workouts
Keeping fit can be an expensive endeavor. All sorts of things can add to your fitness costs – clothing, gym or club memberships, paying for classes etc. If you're looking for a way to cut back on your exercise expenses, we suggest you look into Free Shipping Day. Free Shipping Day is an annual ne day event (December 18th) involving more than a thousand merchants and retailers who offer – you guessed it – free shipping on purchases! There are lots of home gym equipment options and one big purchase will pay for itself over time.
The Best Home Gym Equipment
Here are our recommendations for some of the best home gym equipment on the market. Hopefully you'll find something to fit your budget*!
Trainerball™ Gym Ball – $19.99 – $29.99 Work on your core strength flexibility and muscle movement with this gym ball. Included are a variety of exercises for people of all abilities.
SKLZ Sport™ Performance Trainer Self-Guided Exercise Mat – $26.99 -$29.99 Designed by personal trainers, this durable, washable and portable mat is ideal for use at home or on the go. Printed on the mat are 24 exercises and stretches.
Weider™ Power Switch Adjustable Hand Weights – $60 -$70 Build your upper body strength with these cushioned and easy-to –adapt hand weights. The come in a compact cradle which means they are easy to store in your home.
Iron Gym™ Upper Body Workout Bar – $24 – $90 This bar requires no tools or screws to install. Comes with three grip positions and is perfect for crunches, pull-ups, chin-ups and other upper body exercises.
EXM4000S Selectorized™ Home Gym – $4,250 – $8,200 We realize this will be outside the budget of many people but for serious gym enthusiasts, this home gym is worth the investment. This gym will allow three or four people to work out simultaneously so it's perfect for any families or couples who like to work out together.
*Prices listed include a range of recommended retail prices and sale/discount prices which are subject to change.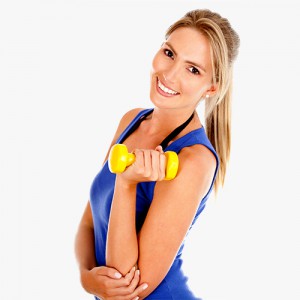 Free Home Workouts
In this highly digital age, we have access to more free workouts and training plans than ever before. For people who cannot afford the expense of a personal trainer, they can simply go online and select one of the many free workouts available online. Here are some of our favorites:
1.      Dancing is an awesome exercise. It's fun and it works your whole body. Check out YouTube for some workouts you can do in the privacy of your own home. Dance Fitness Aerobic Workout: HipHop Class For Total Beginners is a great place to start. If you are a more seasoned dancer, you may want to check out Burlesque Beat: Sexy Fitness Dance Workout and take it from there.
2.      Zumba is a fun and popular workout. Even beginners can take up Zumba by following classes online. No need to splash out on classes! Zumba is a highly energetic workout merging elements of salsa, merengue and reggaeton. It's a super fun way to get fit.
3.      Ab workouts are super easy to do at home and without the need to watch a video. Working out your abs will also benefit your legs, arms and butt especially if you include a variety of exercises like planks and leg raises.
4.      Fitwatch has a fantastic butt, thighs and hip workout available. Their free download is mainly aimed at women but we think men could try it too! This is an equipment free and short home workout.
5.      You can bring the aerobics class to your home. If you have stairs in your house, you have built-in step aerobics equipment. You could also try using a firm and stable box or low stool. Just be careful!
6.      Of course, you don't need to follow an online tutorial to get a free home work out. You can create your own fitness plan by incorporating jumping jacks, jogging on the spot, sit ups, lunges, squats, crunches, leg lifts and other elements of exercise.
The best part of all these free home workouts or having your own home gym equipment is that you can also do other things while working out like watch T.V. and listen to music or podcasts. Or maybe that's just us…….
Feeling better about your health or fitness shouldn't be a chore. If you ever need some extra support, come by BEFIT to speak with one of our trainers or simply fill out a Free Consultation Request by clicking the link and a fitness professional will reach out to you within 24 hours.
5 responses to "Best Home Gym Equipment & Free Home Workout"