It's Christmas. The whole family is gathered in the house, maybe around the Christmas tree or in front of a blazing fire. Everyone is feeling cozy and warm. As you look at your family enjoying some seasonal treats – egg nog, sugar cookies, pannetone, candy canes and alcohol for the grown-ups – you think "wouldn't it be nice if the family could be together like this at other times of year too?". You probably shouldn't live every day like it is Christmas Eve but once the holiday season is over, there are plenty of healthy family activities for you all to do together.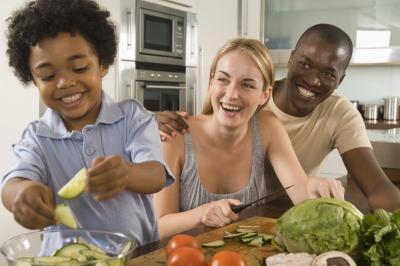 Healthy Winter Activities
Winter can get chilly, even in Texas and the desire to go outside and be active is low. Staying snuggled up in doors is so much more tempting! However, you are missing out on lots of fun and healthy activities your family can really only enjoy in winter.
Winter in Texas is often mild enough to continue doing a lot of activities available year-round. Many outdoor facilities may even be quieter during winter so it is the perfect time to take up golfing as a family or to enjoy family walks on the beach.
Winter is also the perfect season to take up snow sports like skiing, snowboarding, ice skating and snowshoeing. If you have young kids, look for resorts with bunny slopes or easy courses. Kids love the novelty of snow so it's an ideal way to get them to exercise. Most grown-ups we know like to frolic in the snow too!
Healthy Springtime Activities
Many people consider spring to have the best type of weather. It's not too hot but it's also mild and dry enough to have a pleasant time outdoors. This spring you and your family could try:
Go on regular nature weeks to look at the changing landscape and blossoming flowers and trees.
Pack a healthy picnic and some games and head to your nearest park or beach. The whole family will get to snack on some nutritious goodies while getting some exercise and fresh air.
Yardwork can be good exercise. All that digging and lifting can really work up a sweat. Get your kids excited about gardening and start planting your own plants, veggies and herbs.
Healthy Summertime Activities
Summertime offers an abundance of activities for families to do together. The weather is fine, kids are off school and (hopefully) parents get to take some time off work too. Your family can spend summer bonding by:
Taking up swimming. You can teach a kid to swim or help them improve their technique. Most children love the beach but outdoor and indoor pools are good options too if you are landlocked.
Have a family garden party. Added bonus if you have a pool at home! Invite friends and family with children and set up some games e.g. obstacle courses, scavenger hunts and simple races. Even the most reluctant child will be enticed if you offer prizes.
Go camping! You can make a game out of many things like gathering fire wood and setting up tents. Bring along some healthy foods (you can have s'mores too!) and enjoy spending some healthy quality time in the clean air away from city life.
Healthy Fall Activities
Like spring, fall weather conditions are pretty good. There may be more of a chill in the air and back to school time may cause kids to be a bit down for a while but you can still find some healthy family activities:
Just like in spring, go for regular nature weeks. The changing colors and fallen leaves can enthrall some kids. Plus you can have plenty of fun running and jumping in piles of leaves.
Find a local orchard or pumpkin patch and spend a day out harvesting your own fruit. The whole family can get some exercise in plus you can educate children about healthy eating and good food options. Later, you can have a family pumpkin carving contest and cook up some delicious pumpkin treats.
Healthy Indoor Activities
If your family are indoor people, you can still stay fit and healthy.
Lots of outdoor games can be adapted for indoor use. Using household objects, you can set up obstacle courses and gymnastic courses. If you allow it, a bed can even become a trampoline!
Burn off your kids' energy with dance. Put on some of their fave kids tunes or introduce them to your music and hold a dance-off.
Make a New Year resolution to try new healthy family activities each week and build the bond with your family!
Feeling better about your health or fitness shouldn't be a chore. If you ever need some extra support, come by BEFIT to speak with one of our trainers or simply fill out a Free Consultation Request by clicking the link and a fitness professional will reach out to you within 24 hours.