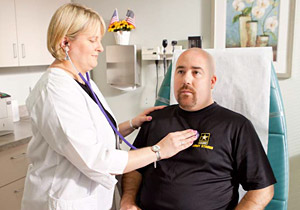 Fit and Healthy Veterans!
Friday November 11th is Veterans' Day 2016, a day for everyone across the USA to remember and thank all the men and women who served in the U.S. military.
Serving in the armed forces requires a person to be in peak physical and mental health condition. During a person's career in the military, they will endure years of rigorous exercise and training camps. They will also follow strict diets to ensure they are in top fighting form. However, once a person retires or is discharged, keeping up the same level of fitness and health can become a struggle. Many of us find it hard to motivate ourselves to work out and eat well and veterans are no exception.
Vets and Health
Veterans and the rest of the general public are all susceptible to the same medical complaints. Unfortunately, veterans often have the added burden of fighting illnesses or conditions picked up while serving in the armed forces. Common health conditions many veterans will endure include:
Mental illnesses e.g. PTSD, depression, alcoholism and aggression
Chronic pain and musculoskeletal injuries
Physical disabilities
Heart disease
Traumatic brain injury
Respiratory disorders
Many vets will also deal with obesity and type 2 diabetes. These conditions can occur because of a change in diet and lifestyle or as a consequence of an illness picked up while on active duty.
What Can Vets Do To Stay Physically Healthy?
As recommended for all people, veterans should eat a balanced and healthful diet and be as physically active as their bodies will allow. A healthy diet and exercise can help combat or manage an array of illnesses and conditions including:
Diabetes
Heart disease
Cancer
Chronic pain and inflammation
Mobility issues
Obesity
Kidney disease
For people who may need some help in the diet and nutrition department the U.S Department of Veteran Affairs offers a range of services including cooking classes, nutrition classes, recipes and food blogs! We recommend that all vets eat plenty of green veg, fruits, lean meat, whole grain foods and fruit. Try to limit sweets and alcohol and cut out smoking if it's one of your vices.
During their years in the armed forces, veterans were probably some of the fittest people around. As we all age, we find it harder to keep up with the stamina levels of our younger selves and it becomes increasingly difficult to stay in shape. This change is often most noticeable in people who go from doing a lot of physical activity over an extended period of time to an average or below-average amount. Exercise can also become a challenge for vets who experience limb loss or are now dependent on a wheelchair or crutches. Chronic pain can also be an obstacle. However, there are still ways for vets – including disabled vets– to get their heart pumping and break a sweat.
Stretching exercise are excellent for staying mobile and supple. Yoga and Pilates are two popular options.
Swimming is a low-impact sport which can be a good form of exercise for people with bone, joint or pain issues.
Walking is an understated activity which offers plenty of health rewards.
If standing is an issue, there are plenty of seat exercises including bicep curls and overhead presses.
In fact, the Department of Veteran Affairs has dozens of articles available with exercise options for veterans of all abilities!
What Can Vets Do To Stay Mentally Healthy?
Mental illnesses are some of the biggest hurdles for many vets with PTSD, depression and traumatic brain injury topping the list. These conditions can cause a veteran to feel isolated; sometimes it's hard to explain how you feel to someone who never experienced what you went through. No veteran should suffer in silence; there are people and organizations to turn to:
A primary care physician
A support group of other veterans
A behavioral psychologist or psychiatrist
One of the national Veteran Crisis lines , available 24/7
Veterans may also experience many of the common mental illnesses many people suffer from such as anxiety and substance abuse. Around the clock care is available for these and other conditions in Veteran Affairs centers across the states. Their website also contains advice for veterans and their families as well as contact details for support agencies and treatment centers.
We hope all vets had a wonderful Veterans' Day, full of love and support. If you feel physically or mentally unwell, please confide in someone and take care of your body and mind. All veterans should be fit and healthy veterans!
Feeling better about your health or fitness shouldn't be a chore. If you ever need some extra support, come by BEFIT to speak with one of our trainers or simply fill out a Free Consultation Request by clicking the link and a fitness professional will reach out to you within 24 hours.